August 2021 - Netflix today announced the new Danish film Ehrengard, directed by Oscar, Golden Globe and two-time Golden Palm winner Bille August. The film is based on the novel of the same name Ehrengard by Tania Blixen (1885-1962), one of her last works. The screenplay is by Anders August and production is by Marcella Dichmann for SF Studios. Jacob Jørgensen and JJ Film have been developing the project over the last ten years.
In the fairytale kingdom of Babenhausen, Cazotte, a self-proclaimed expert in matters of love, is hired by the scheming Grand Duchess to provide an heir. While searching for a suitable princess, Cazotte introduces the shy and introverted crown prince to the art of love and seduction. But the plan soon backfires when an unwanted pregnancy results in the appearance of an illegitimate heir and the royal family is forced to seek refuge at Rosenbad Castle. Here, amidst rival royal pretenders to the throne and intrigue, Cazotte falls in love with the noblewoman Ehrengard and must realize that he himself is truly no expert in matters of love.
The set design for Ehrengard was created by Queen Margrethe II, who has been involved in a number of artistic activities since 1970, including painting, church vestments, watercolors, prints, book illustrations, editing techniques, set design and embroidery. She is an honorary member of the Danish Association of Stage Designers for her many years of work as a set designer for Danish cinema, television and theater.
Director Bille August sees a great opportunity in the Netflix adaptation of "Ehrengard": "I am looking forward to showing this fascinating story of longing and seduction to a worldwide audience. The Queen has created an absolutely fantastic set for this project, which will also dominate the set design for the entire film. Fantastic' (in the absolutely literal sense) is also the approach of our film. We want to create a carefree, burlesque, fantastic and autonomous visual universe with humor and elegance."
Queen Margrethe II adds: "Karen Blixen's stories have always fascinated me with their aesthetics, imagination and the worlds that emerge for me with strong images. I am delighted to have been able to contribute to this project. One senses that the author has as much visual power as Hans-Christian Andersen. But who is Ehrengard now? She is one of Karen Blixen's exciting female characters, and one of the few whose story ends happily, to boot. The intrigues influence and change each other, and Blixen twists the story around her protagonists until they (and we as readers) have completely lost track. How will the mystery unravel? By creating the fantastic sets and costumes, I've tried to put a face to the fantastic world of Karen Blixen, and I'm excited to see how the story around Ehrengard comes to life in this film."
Lina Brounéus, Director Co-production & Acquisition EMEA at Netflix, commented, "I am proud to bring Ehrengard to life for Netflix. Together with such a great team around Bille August and Anders August, our close partners at SF Studios and the fantastic set of Queen Margrethe II, I'm sure this timeless story has become as epic, brilliant and intelligent as Karen Blixen's 1962 masterpiece."
Producer Marcella Dichmann concludes, "I am honored to have been a member of this wonderful project, which is about a woman's intelligent response to male seduction. Bille August is a legend of Scandinavian cinema, and together with the set created by Queen Margrethe II, the film takes on a strong visionary power. It's an absolute privilege for me to have worked on this film and to present it worldwide together with Netflix."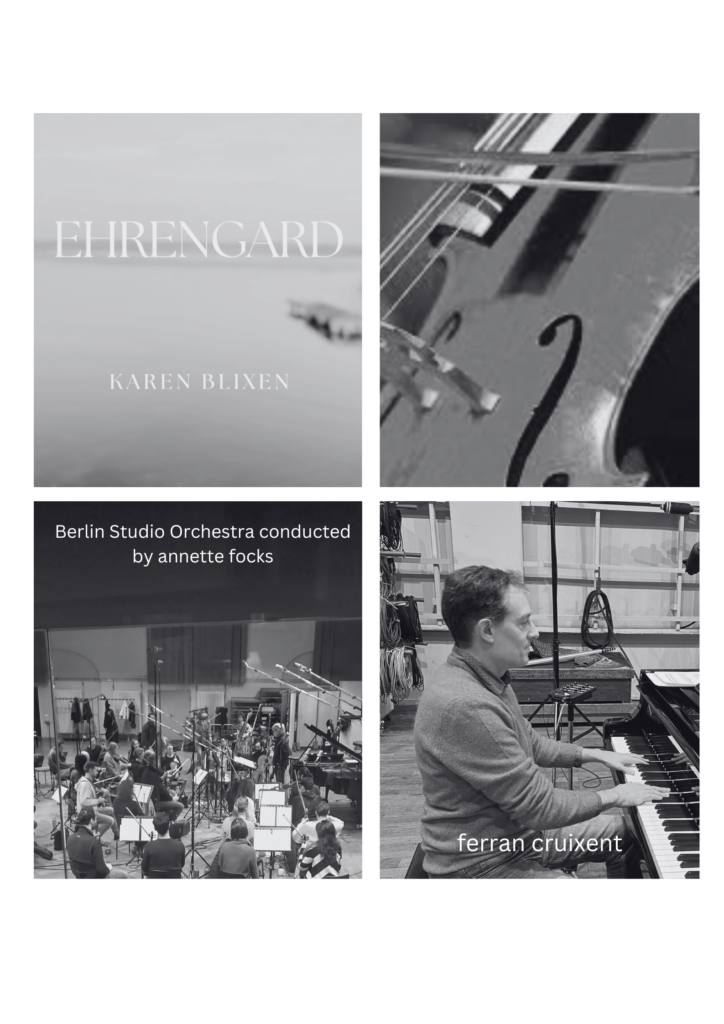 Credits:
Based on: "Ehrengard" by Tania Blixen
Director: Bille August ("Pelle, der Eroberer", "Die besten Absichten")
Screenplay: Anders August ("Per im Glück", "Follow the Money – Die Spur des Geldes", "Grisen")
Production Design: Königin Margrethe II.
Producer: Marcella Dichmann/SF Studios ("Loving Adults", "The Exception")
Co-Producer: Jacob Jørgensen/JJ Film
Executive Producer: Lars Bjørn Hansen und Tim King/SF Studios
Ehrengard launches worldwide on Netflix in 2023. www.netflix.com/ehrengard
About Karen Blixen
Baroness Karen von Blixen-Finecke is one of the most internationally famous Danish writers, authors and storytellers. She has published under her own name as well as under Tania Blixen and under the pseudonyms Isak Dinesen, Osceola and Pierre Andrézel. She is best known for "Seven Fantastic Stories," "Winter Stories," and "Beyond Africa." "Ehrengard" was published posthumously only a year after her death in 1962. Her major works also include "Babette's Feast," about a cook who spends her entire lottery winnings of 10,000 francs on a lavish feast in a small Norwegian village. Her work The Immortal History was filmed by Orson Welles in 1968 and Babette's Feast by Gabriel Axel in 1987. Beyond Africa, with Meryl Streep and Robert Redford, directed by Sidney Pollack, ran in 1986 and won seven Oscars.
Queen Margrethe II: Danish monarch becomes set designer at Netflix
For the new film adaptation of the novel "Ehrengard" by Bille August, the streaming provider Netflix has enlisted royal support - and hired the Danish Queen Margrethe II as set designer.
Denmark's Queen Margrethe II is working as a set designer at Netflix for the filming of "Ehrengard," the new film by Bille August.
In her main job, Margrethe II is actually queen and as such the head of state of Denmark, but the monarch and self-confessed chain smoker has many talents. Especially artistic ones: under the pseudonym Ingahild Grathmer, the unpretentious queen already realized her devotion to painting and illustration in the past - and even then extremely successfully. The queen's paintings made it into museums, and some of her drawings even found their way into a Danish edition of J. R. R. Tolkien's "The Lord of the Rings" trilogy. For her set and costume designs for films and Danish theater, the Association of Danish Set Designers named her an honorary member.
Now the streaming provider Netflix is also making use of her diverse talents. For the film adaptation of the novel "Ehrengard" by "Beyond Africa" author Tania Blixen, Queen Margrethe II will be responsible for the set and the pompous costume design.
Queen Margrethe II creates a fantastical stage world for Netflix's "Ehrengard"
"The Queen has created an absolutely fantastic set for this project, which will also dominate the set design of the entire film," director Bille August announced. For the Danish queen, it is obviously a great pleasure to be involved in the project, for which she has been able to give free rein to her creativity: "The stories of Karen (called Tania, editor's note)Blixen have always fascinated me with their aesthetics, imagination and the worlds that are created for me with strong images," said the monarch. "By creating the fantastic sets and costumes, I have tried to give a face to the fantastic world of Karen Blixen, and I am excited to see how the story about Ehrengard comes to life in this film," the queen added.
The novel "Ehrengard"
The novel "Ehrengard," which was published only after the author's death, is set in the fictional kingdom of Babenhausen and tells the story of the self-appointed love expert Cazotte, who is commissioned by a grand duchess to find a princess to succeed her to the throne. But while Cazotte wants to explain the exciting world of love to the heir, he has to admit that he himself also has a lot to learn.
We'll find out how Queen Margrethe II will stage the love intrigues that ensue in 2023 on Netflix.